U17012VV
Coco (U1983VV)









Size S : 1300x2450x0.8 mm
Use and Care Guide
On the laminate surface,
Do not chop or hammer.
Do not use sharp objects, abrasive cleaners, pads, corrosive or aggressive cleaning agent.
Do not place kettles, coffee machines, fryers, another heat or damp source, hot cookware.
Do not expose the laminate to temperature of 60°C for prolonged periods.
Do not flood the laminate or introduce water at joints.
For high gloss worktops, the additional care should be taken as the scratches can be seen easily.
To prevent moisture ingress, please ensure that the due care is taken to correctly seal the product.
Cleaning Method
Light stain:

Use dry or damp paper towels, a cloth or sponge

Normal stains (fat, oil, juice, tea, etc.)


– Use cloth or soft nylon brush and
washing powder, soft soap, toilet soap or washing-up liquid.
– If necessary, leave for a while and then rinse thoroughly with clean water.

Heavy stains


1. Discoloration caused by beverages
– Use washing powder or household bleach. Do not repeat too often!
2. Pens/Pencils/lipstick/Shoe polish/Nicotine/Nail varnish
– Use an organic solvent such as acetone, methylated spirits, petroleum spirits, perchloroethylene.
3. Paints/Varnish stains/Printing ink
– Use water or an organic solvent.
– Remove two-component paints immediately
4. Adhesive (water-based, dispersion).
– Use water or organic solvent.
5. Two-component adhesives
– Remove immediately. Do not allow to harden!
For more info, please feel free to contact our Sales Team.
Duropal is authentic, realistic, strong, and durable laminates. It can be post-formed in the tight radius.   The properties of high resistance to heat, moisture & water vapor, abrasion & impact resistance, household chemicals, and high color
fastness make it easy-care, hygienic and safety for foodstuffs and users.
Duropal is easy to process and dispose of. Due to the low-levels of formaldehyde released, Duropal is eco-friendly product. Fire retardant property and no
electrostatic charge make the product suitable for more installation areas which may require a higher application. Custom-sized edge profiles are available with 16 types.
– Fire effect: DIN 4102 certifies that Duropal HPL quality is fire-proof, no fusion.
– Physiological properties: The testing results of DIN EN 1186 / DIN EN 13130 show no toxic side effects to the end-user.
It is safe and suitable for use in rooms where food is stored, handled and consumed.
– Formaldehyde release protection: After overlaying Duropal HPL on the substrate, Duropal (every thickness) is able to
prevent formaldehyde not to release into the air.
– Insulator properties (Electrostatic): The report of DIN EN 61349 confirms that Duropal HPL has no electrostatic charge.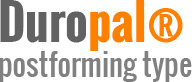 Product Detail
Width x Length
1300 x 2450 mm.
1300 x 4100 mm.
Thickness 0.8 and 0.5 mm.